submersible motors for all ROVs and subsea vehicles.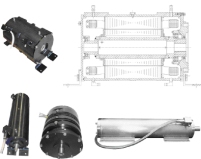 Silvercrest and the SME Group design and build specialized motors, and support packages for use on ROVs in the offshore and subsea industry. These motors are usually made to order and vary from 1kW to 300kW, 400 to 4160 Volts, 50 or 60 Hz, 2-Pole or 4-Pole. There are two common methods of construction available: - Stainless steel construction, or Marine Grade aluminium that is Black anodised to resist corrosion.
These motors are usually oil filled and pressure compensated. Common operating voltages are between 2300 volts and 3300 volts - even for small 5kW motors. Certain motors can operate down to depths of 10,000 meters.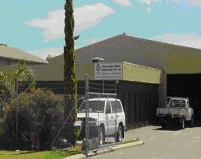 Our partner SME manufactures new Submersible and Rov motors. SME also services and repairs all brands of Submersible and Rov motors. Including Hitachi, Pleuger, Grundfos, Mercury, Byron Jackson, Haywood Tyler, and Franklin. SME is a 100% owned and operated Australian company. Where the core business is to manufacture, supply and service submersible electric motors. Thirty service orientated staff members have the ability to service and technically support all makes and models of submersible electric motors at their Perth facility.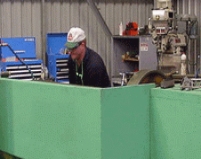 The sales department, with a total of 75 years experience in the submersible and electric motor business, are happy to assist with any enquiries on the purchase of submersible motor engineering products ranging from 3.7kw to 1500kw, in various voltages and frequencies.
In the 1200 ft workshop facility, purpose built for the manufacture and service of submersible electric motors, SME offers the following in house services:
New Submersible Motors (6" to 20", 5HP to 550HP, 2-pole and 4-pole).
All Voltages and Frequencies.
Full Machine Shop capacity.
Voltage Testing through 10,000 volts.
ISO9001 quality assured workshop.
An Overhead crane (10ton swl).
Water Pressure Test facility with full international certification.
Full Load / Dyno testing to 250kw – with detailed test
Balancing facility available to 250 kg.
High POT and Surge Testing.
SME are a fully integrated manufacturing facility. In addition to a standard range of motor products SME also produce the following:
Special Motors for specialist applications.
4-Pole, 6-Pole and 8-Pole motors.
All Stainless Steel or more exotic material construction.
Special Thrust ratings.
Special Lead manufacturing.
NEMA and other couplings in a variety of materials.
Replacement parts of obsolete products.

SME are also able to provide the following services:
Trouble Shooting.

Technical assistance during Commissioning.
Repairs to all motor makes (oil and water filled).
Rewinds of all voltages (200 volt to 6.6kv) with 1 Year Warranty.
Dynamic testing.
Non-Destructive testing.
Welding and Machining.
On site or Factory Based cable splicing.
Retro fitting of Condition Monitoring Equipment.
Modification of existing motors for upgrade to higher specifications.
Refurbishment of ROV motors using more technically advanced materials
press release.
Silvercrest supply 260kW submersible motors to CTC Marine Projects Ltd.
Silvercrest Marine has manufactured and delivered in just six weeks from order, ten 260Kw submersible motors to CTC Marine Projects based in Teeside, England. The motors will be used by CTC on their subsea plough and trenching vehicles worldwide.
260kW Silvercrest Pump Motor under construction.
The 260kW/ 3000V / 60Hz / 2 pole pump motors (designed specifically for use in the horizontal axis) were fitted with shafts at both ends, in order to mate with three tandem mounted hydraulic pumps on one end and a Hayward Tyler M6 single stage water pump-set on the opposite end. In this 260kW model, rather than using the pivot shoe arrangement, typical of vertically oriented pump-sets, heavy duty tapered roller bearings were fitted to the rotor to manage the water pump induced end-loads. Thus giving a calculated bearing life in excess of 11,000 hours, even when used in the horizontal axis. Depth rating on each motor is 10,000 meters, with oil filled compensation. Motor housings are 316 stainless steel, with Mylar coated windings (the ultimate in winding coating technology) being used in each motor at the request of CTC, giving an insulation rating of >16kV at a temperature of 140 degrees C.
Silvercrest Marine will bespoke manufacture virtually any shape and size of submersible motor required for subsea operations.
submersible motor systems.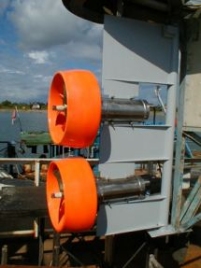 Silvercrest in conjunction with SME are able to offer a complete range of submersible motor systems to meet the demanding requirements of the Rov, sub-sea trenching, and manned submarine industries. Manufactured to exacting standards, our motors are more competitively priced than any comparable motors on the market today.
ROV / trenching replacement motors.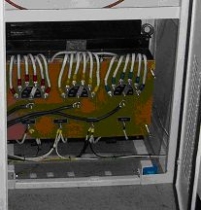 We offer a standard range of direct replacement motors, designed as a direct replacement to fit into many of the more popular ROVs and trenching systems in use today (for example, the Perry, Hydrovision and Slingsby underwater systems).
Silvercrest can offer bespoke manufacturing of motors to meet your specific requirements. We recently completed the design of a 290HP / 300VAC trenching motor for use in subsea trenching operations. Also available upon request are matched High Voltage Transformer Units (HVTUs) and electronic soft starts for each standard replacement motor. HVTUs are custom built to your specification.
Our standard ROV / Trenching Replacement Motor Range include:

75HP Sunn Star replacement.
100HP Sunn Star replacement.
125HP Sunn Star replacement.
75HP Fowler replacement.
100HP Fowler replacement.
100HP Curvetech replacement.
Motor Type
HP
Volts
Poles
Housing
GBP Retail New
GBP Part-Ex
Sunn Star Replacement
75
2300
4
ss
POA
Sunn Star Replacement
100
2300
4
ss
POA
Hydrovision Curvetech Replacement
100
3000
4
ss
POA
Hydrovision Curvetech Replacement
100
3000
4
AL + Ribs
POA
Trenching pump Motor
380
3000
4
SS or Al
POA
Hydrovision Curvetech Replacement
150
3600
4
Al
POA
All prices ex-works UK.
Warranty Provided:
All motors for 12 months from date of purchase.
manned wet and dry submarine propulsion systems.
Historically, over the last fifteen years electrical submarine thruster systems have been problematic. Notably AC motor controllers and DC brush motor powered thrusters have been the cause of many a company's downfall. Other problems such as 120VDC battery buss voltages have compounded the overall problem.
Since the early tourist submarines first came into use during the mid 80's, motor controller technology has steadily developed. Certain manufacturers have produced systems which have proven to be more capable and more importantly, reliable than their early counterparts. Unfortunately, this leaves quite a few of the older tourist and research submersibles struggling with the older unreliable systems that are still in use.
A little known fact is that motor drive systems have a finite operating life, indeed they have a 'shelf life'. This is due to the deterioration of the large capacitors used in the drive controllers. This occurs even when the drive is not in use. If a drive is more than five years old, then it's capacitors are already approaching the end of their useful life. As a result these drives are now becoming tired and often prone to failure. Usually with accompanying pyrotechnics!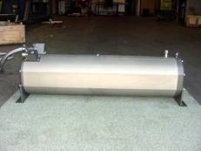 Silvercrest has developed a new 'replacement' propulsion system for both new build and existing manned submarines. We tailor the installation to solve your propulsion requirements. Plus we will visit you on-site to assess your installation and determine the best route forward to solve your problems.
Once the problems have been identified and assessed, where needed, we will re-design your battery buss arrangement to produce a working voltage suitable to run a reliable and powerful thruster system. We will then design the motors specifically to meet your requirements. The pressure compensation system is added and the final stage of the design process is matching the correct drive with your new motors.
Recently Silvercrest completed the installation of our 69kW (6 x 11.5kW) AC propulsion and ballast system into one of the Odyssey class tourist submarines in Southeast Asia. The system utilizes a state of the art, purpose built, 11.5kW thruster / ballast pump motor. A custom built submersible, 3 phase, AC, squirrel cage induction motor encased in a 316 Stainless Steel compensated housing. The motor was designed specifically to match the available buss voltage and it's dedicated motor invertor controller. The Silvercrest motor is smooth, quiet and powerful.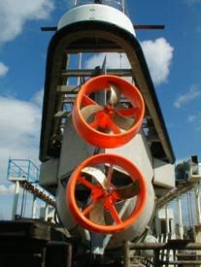 Motor control is supplied through a CT Commander SE invertor controller drive. Manufactured by one of the leading drive manufacturers in the world today. Each drive utilizes digital control using an onboard processor with EEPROM data storage. This allows the drive to store operating parameters and it's own operating history for maintenance and fault diagnosis purposes.
A twin Burgmann tandem mechanical shaft seal arrangement, fitted on each motor shaft, provides protection from water ingress. This works in conjunction with a custom built 33 Lt capacity oil-filled central motor compensation system.
Great attention has been applied to designing our motor systems for reliability and a long working life. All components are rated to at least 150% of required working capacity. This over rating of individual components ensures that no single part of the system can ever be overloaded during correct use.
Specific motor functions and operational profiles can be catered for and programmed into the CT controller. For example the Odyssey system has a 'Turbo' function, whereby the motors run normally with a 7.5kW max output. At the flick of a switch on the pilot's console, the motor can be enabled to output it's maximum 11.5kW (for 1½ minutes) for use in maneuvering emergencies.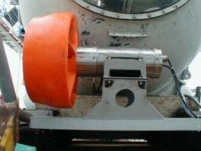 Motors and drives of various ratings are available from Silvercrest, utilizing many of the same frame parts. For example our 15kW motor utilizes the exact same parts as the 11.5kW unit, but with more motor laminations and therefore a slightly longer body. This reduces your spares requirement even when mixing and matching the motor sizes. Military spec versions of the motors are also available on request.
Silvercrest offer a return to dealer, two-year warranty on all parts, subject to correct usage and subject to our standard terms & conditions.
General Specification for Silvercrest 11.5kW / 240VAC Thruster Units as fitted to a Tourist Submarine.
Motor:
Depth Rating 3000 Mts
Power Rating: 3kW -20kW
Poles 2,4,6 or 8
Voltage (Nominal) 340-480VAC
Phase 3
Max Amps 1A @ 0.25kW @ 340VAC
130A @ 20kW @ 340VAC
30.6A @ 11.5kW @ 340VAC *
Max RPM 2600 / 2 pole @ 50Hz
1300 / 4 pole @ 50 Hz
970 / 6 pole @ 50 Hz **
650 / 8 pole @ 50 Hz
Housing 316 Stainless Steel
Compensation Oil Filled – external compensator, ambient or over pressure.
Seals Twin, Tandem Mechanical Shaft Seals.
Weight 160kgs (11.5 kW) ***
Fixtures To Order
Drives:
Type
Rating 0.25kW – 37kW
Voltage 470-600VDC in
340-480VAC out
Current Up to 130A continuous
Protection Over current, Undervolts, Thermal
Cooling Forced Air-conditioned air (watercooled optional)
Weight 11kgs
Warranty 2 Years

Compensator:
Type Expanded bellows
Rating 33Lts ambient to 100PSI max
Material Anodised Aluminium or 316 Stainless Steel.
Ports 7 – Optional extras as required
Fill # 4 JIC thru ¼" turn valve
Bleed ¼" Taymar 20PSI relief valve
Fixtures 316 Stainless Steel
* Actual dynamometer measured
** Actual dynamometer measured
*** Actual measurement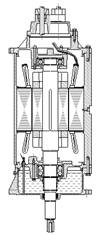 SME "Wet and Dry" motors are designed for use with "sump pumps" for continuous submergence to a depth of 10 meters in water, slurries, sludge, effluent, sewerage, and other liquids. These motors can offer a robust alternative to other units that suffer from shorter operating lives with no changes to the existing wet end performance.
The motor winding compartment is air "filled", with an oil chamber for the mechanical seal/oil seal chamber. These IP68 motors are designed for vertical shaft down operation driving pumps. SME can provide this range of motors with a variety of flange and shaft options. These motors can be provided with mounting facilities to suit the bulk of OEM products available today and also with the option of standard IEC or NEMA shaft and flange dimensions. SME can offer different mechanical seal/oil seal, and thrust bearing arrangements to suit different customer preferences and requirements.
| | | | |
| --- | --- | --- | --- |
| Model | kW | kW | kW |
| | 2-Pole | 4-Pole | 6-Pole |
| WD200 | 7.5 | 7.5 | 5.5 |
| WD200 | 11 | 11 | 7.5 |
| WD200 | 15 | 15 | 11 |
| WD200 | 18.5 | 18.5 | 15 |
| WD200 | 22 | 22 | 18.5 |
| WD200 | 30 | 30 | 22 |
| WD200 | 37 | 37 | 30 |
| WD200 | 45 | 45 | - |
| WD280 | 55 | 55 | 37 |
| WD280 | 75 | 75 | 45 |
| WD280 | 90 | 90 | 55 |
| WD280 | 110 | 110 | 75 |
| WD280 | 132 | 132 | 90 |
| WD280 | 150 | 150 | 110 |
SME motors are generously rated by design so they can tolerate overloads, lack of cooling, and general abuse. They can run under full load for 15 minutes not submerged with no external cooling - hence the name "Wet AND Dry". The motors are fitted with moisture detectors and thermal protection. Provided these are properly connected and set up to give advance warning of problems, these motors should give many years of reliable service, provided regular maintenance is undertaken by suitably qualified service technicians.
datasheets
Click for Specification for submersible motors datasheet (Opens in a new window for easy printing)
Click for Water tight motors for deep well pumps datasheet (Opens in a new window for easy printing)
Click for Typical thrust bearing datasheet (Opens in a new window for easy printing)
how to contact us
Silvercrest can provide the solution to all your submarine and submersible requirements (big or small). Contact us at anytime (24hours), to discuss submarine chartering, leasing, buying, and selling. Alternatively call us for a friendly chat, to discuss your proposed underwater project and ideas. We will always offer suggestions and advice.

European Office (England). Tel: (+44) 1285.760620. Fax: (+44) 1285.760620.
E-mail: sales@SilvercrestSubmarines.co.uk