submarine engineering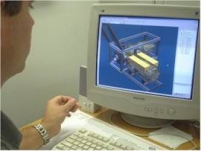 Silvercrest and the Hydra Group have excellent engineering facilities. We can manufacture and refurbish submarines, Rovs, diving systems, and subsea equipment.
Office and Administrative Facilities.
300 m2 of office space, which comprises the administration, design office, and three open-plan project offices.
Fully integrated design, administration, sales and stores software system, tailored to meet Hydra's unique requirement for subsea work.
Computerised office system with ten workstations in the production facility, and three in the administrative facility.
Logistic tracking system for management of clients assets, whether in the field or in the workshop.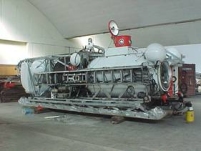 1500 m2 of factory space.
Overhead gantry for manufacture of pressure vessels and chambers.
TIG, MIG and plasma cutting equipment.
5-ton forklift.
Various lifting and heavy rigging equipment.
Vertical drill press, band saw, 2 x cut off saws, grinders, assorted hand operated grinders, sanders and boring equipment.
Mobile containerised workshop for onsite maintenance operations.
Mobile clean workshop for onsite oxygen cleaning operations whilst in offshore locations.
Low pressure and High Pressure compressors for testing and general workshop use.
Assortment of calibration gases for testing gas analysers and monitors.
Pressure test panel for regulators, valves and gas management panels.
Test panel for diving masks, helmets, communications, and electrical components.
Winch load test facility.
Silvercrest and Hydra provide a wide range of customer support services:

Submarine inspections, surveys, and valuations.
Rov inspections, surveys and valuations.
Diving equipment inspections, surveys and valuations.
Subsea equipment manufacture and refurbishment.
Liaison with classification societies (ABS, DNV, BV, Lloyds, GL and others).
Submarine Pilot Training Courses for submarine buyers.
Subsea Equipment Sourcing and Supply.
The provision of experienced Submarine and Rov personnel.
Subsea equipment design and engineering support.
Tourist submarine site surveys.












how to contact us

Silvercrest can provide the solution to all your submarine and submersible requirements (big or small). Contact us at anytime (24hours), to discuss submarine chartering, leasing, buying, and selling. Alternatively call us for a friendly chat, to discuss your proposed underwater project and ideas. We will always offer suggestions and advice.


European Office (England). Tel: (+44) 1285.760620. Fax: (+44) 1285.760620.
E-mail: sales@SilvercrestSubmarines.co.uk