ROV's sales
Thankyou for contacting Silvercrest, concerning your submersible requirement. We will be pleased to offer every assistance that you may require, in order to help with your planned underwater project. We can offer for sale a wide range of Rovs, manned submarines, and submersibles. If you wish to charter a submarine for your project, please contact us for a discussion. Should the selection shown below, not match your exact requirement, please contact us to discuss other submarines and Rovs that are presently available but not listed.
NUFO Rov.
Recently upgraded, in good condition and dive ready. This system includes a container (EEX), A- frame and TMS. Operating depth 500m. The Rov system has a new, modern control system with a lot of very nice features. Also new thrusters. The system is ideal for subsea inspection and survey work.
Hyball Rov.
Hyball Rov available for sale in excellent condition, all latest circuit boards and modifications. Extensive spare parts package included. Training course available. Fantastic buy, a bargain. Click for full technical details
Apache Rov.
Operational depth 2500m (8000ft). Complete with TMS and Surface Control Unit. This Rov is in good condition. Additional equipment to the normal vehicle specification includes Kongsberg Colour cameras 1366 and 1372. Pan and Tilt unit for cameras and lights. 4-function manipulator (rotating claw) with remote control unit. Sonar. Spare parts package.
Phantom Rov.
In very good condition and dive ready, complete with spare parts, and LARS. Standard operating depth 300m (max depth 600m). Manipulator, 2 * 500w lights fixed position, 2 * 250w linked to camera pan/tilt. Heading compass, and Depth gauge. Power requirement 230 volt, 50 Hz, 15 KVA. New 1200ft length of neutral flying tether. Six one-horsepower thrusters.
Phantom-U Rov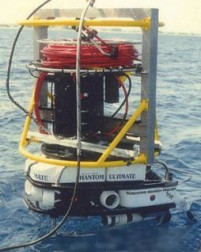 Fully updated with new flying tether. Depth rating 2500ft (800m). Control console, power transformer (220vac three phase), spares, broadcast quality video camera (ROS high resolution colour camera with zoom), pan & tilt unit, 2x 250w lights, 4-function manipulator, sediment blower, and Imagenix sonar. Bandit winch with 2000ft of double armour cable. Rov weight: 800lbs. Rov dimensions: 3ft(h) x 4ft(w) x 5ft(l). Excellent package in dive ready condition. Click for full technical details
Sc- Rov system
(40hp) manufactured by Ametek Straza. Currently in storage. This Rov is generally in good condition, however a routine maintenance programme should be carried out prior to any underwater operations. Diving depth 600m. Mesotech Sonar. 7 x thrusters. 2 x cameras. 2 x forward lights (250w). No manipulators. Selection of spare parts. 350m umbilical and winch (extra length to 590m possibly available). Totally refitted four years ago and then placed in storage.
Super Scorpio Type Rov (100Hp).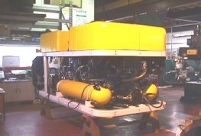 A heavy-duty underwater vehicle designed to carry out a wide variety of recovery, observation and manipulator tasks to a water depth of 1000m. Equipped with Sonar, TV cameras, lights, manipulators and other specialised underwater survey equipment. The ROV will also provide electrical and hydraulic interfacing for general purpose and support tooling. It is capable of free swimming or operating from a heavy-duty underwater garage (TMS) via a 150m buoyant tether umbilical. The system comprises of the Power Distribution Package, Control and Display Console, Winch Assembly, Umbilical and the Vehicle itself. The equipment requires a stable power supply of 380 – 480v, 3-phase, 60Hz at 180kva. Click for full technical details
AC-ROV.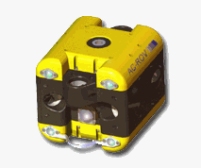 The smallest inspection class Rov in the market place (190mm fly through). The AC-ROV is more powerful, more robust and a more cost effective solution than all other Rovs in its class. This Rov can hover, circle, rotate on its axis, and move in any direction the target requires. Operating depth of 75-100m. A total system carry-case weight of under 15kg. The unit has been designed for inspection in hazardous and confined areas. Rov Size: 203mm x 152mm x 146mm. Weight: 3kg. Camera: Colour CCD. Thrusters: 6 thrusters (4 x horizontal vectored, 2 x vertical). Lights: 4 cluster leds (variable intensity). Tether: Options to 80m with hand reel. Tether Connection: Top, back or bottom. System Power: 300 watt (0.4hp). Payload: 300g. Inputs: 90/260vac (47/63Hz) or 124/370vdc. US$11,990.
Click for full technical details
SeaEye Tiger Rov.
Tiger Rov system (operational depth 600m) which has only 85 in-water hours over three dives, and comprises the following main components. Seaeye Tiger Rov vehicle. Launch & Recovery system (Lars) + payout system (main umbilical 200m). Garage - TMS. Spare parts, manuals, electrical drawings, electronic schematics, ancillary tools and equipment.
Abyssub Rov (5000m).
This very deep diving Rov is currently in storage, and requires a refit programme. This is the deepest diving Rov type that ISE has built, and to-date only three systems have been delivered. They are based on the HYSUB ATP-40 with components modified for operation to 5000m (16,400ft). The vehicle is deployed in a cage. The steel armoured umbilical contains single mode optical fibres for all video, sonar, instrumentation and data signals. Please contact us for details.
Cherokee Rov.
Please contact us for details.
Other Rovs also available. Please contact us to discuss your requirements.
how to contact us
Silvercrest can provide the solution to all your submarine and submersible requirements (big or small). Contact us at anytime (24hours), to discuss submarine chartering, leasing, buying, and selling. Alternatively call us for a friendly chat, to discuss your proposed underwater project and ideas. We will always offer suggestions and advice.

European Office (England). Tel: (+44) 1285.760620. Fax: (+44) 1285.760620.
E-mail: sales@SilvercrestSubmarines.co.uk