company news
Silvercrest Submarines news letter (Jan-2004)
As always we have a wide range of submarines (big and small), plus workclass and eyeball Rovs for sale. Priced to suit all budgets and tasks. Silvercrest Submarines can arrange submarine maintenance, and Pilot Training courses for purchasers. Submarine certification and refit programmes can also be provided. Further information available on request.
Contact us at anytime to discuss the options and to exchange ideas.
Submersibles for sale.
For sale in excellent condition, a four-man (1000ft depth rated) submersible with diver lockout facility. Also immediately available a range of multi passenger tourist submarines (ten to forty passenger). Small two / three man submersibles, and one-man ADS units. Pilot training and maintenance courses are arranged to support every submarine sale if required. Please contact us to discuss your exact requirements.
A state of the art three-man submersible with a very high-tech image, operational depth: 300ft (100m). Stainless steel hull, nickel sodium batteries. Domed acrylic viewports for all crew members. This submersible is ideal for a range of underwater activities and especially for yacht based recreation. New build with test dives just completed.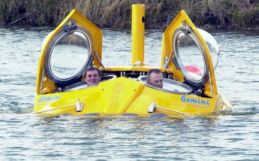 OCEAN-EXPLORER.
This privately manufactured submarine, together with three support vessels is now for sale. Completed in 1989, with over 12 years of design, research and development. Depth: 1000ft approximately (unmanned to 3,500 feet, as designed). Weight: 12000 lbs. Surface speed: 10kts with surface range 400 miles on diesel power and underwater range 25 miles on fully charged batteries. Viewports: fourteen 9-inch ports 1 1/2" thick, plus one 3" port (top hatch cover). Life support: two people for up to seven days. Trailer: custom-built, tandem. Dive missions have been completed off the east coast of the United States, south Florida, the Keys, the Gulf and Caribbean. (Currently in warehouse storage). Price US$195,000. Three surface support vessels included in the sale price (35ft Long Range Flybridge Live Aboard, 23ft Center Console Transport, and 11ft Avon Sub Tender Inflatable).
Worlds Most Innovative Non-Nuclear Submarine.
The German Navy will be getting a revolutionary new submarine the 212A class. Conventional does not really do justice to it,non-nuclear would be better. The new submarine's outstanding feature is its atmospheric air independent propulsion system. This propulsion system is based on a quiet-running hydrogen fuel cell which not only makes the submarine very difficult to detect but also allows it to stay submerged for a long period of time.
SC-BUG SUBMERSIBLE.
A small privately constructed submersible designed for two or three persons. Ideal for underwater filming, research, and personal recreation. Operating Depth: 500ft (test depth 725ft). Length 12ft and width 5ft. Numerous viewports. Life support for three days. Over 500 dives completed todate. Training course available.
SM-202.
This is an exciting leisure submarine, which is ideal for underwater filming and pleasure activities in shallow water depths. Exceptional 360-degree viewing, through the acrylic hull. Operating Depth: 150ft(50m) with possible upgrade to 100m. Weight: 4tons. Crew: One pilot and two passengers. External lights, underwater communications, and sonar.
Dual Deepworker Submersibles.
This exciting package of dual Deepworker submersibles is now available for sale. Each Deepworker is a one-man tetherless submersible capable of working in depths up to 2000ft. Certification: Lloyd's Register of Shipping.
Submersible pilots in the past have been constrained to only piloting the vehicle and monitoring his systems, which are critical tasks. Deepworker operators can be alleviated from a number of these tasks due to technology, modernization and the inherent ergonomic design of this particular vehicle. In this design the pilot is seated upright. The view port is a 25" hemispherical dome. The pilot can enter desired depth and heading data into the PLC and Instruct the PLC to maintain that course, depth and heading. The PLC will continue to perform that function until cancelled by the pilot. The versatility of the PLC along with the ancillary computer also allows for other capabilities such as acoustic electronic communication of critical operational information with the surface vessel. The submersible is outfitted with a six-function manipulator. Additional hydraulic tooling is easily integrated such as water jets, suctions, and guillotines. An additional manipulator can be installed for specific dexterity requirements.
UNCOVERING SECRETS OF (ANOTHER) LOST CIVIL WAR SUBMARINE.
A joint research project is yielding new details about the U.S. Navy's first submarine, the USS "Alligator." The U.S. National Oceanic & Atmospheric Administration and the U.S. Navy's Office of Naval Research joined forces to uncover the secrets of a technological marvel of the Civil War era akin to the USS "Monitor" ironclad warship and the Confederate submarine CSS "Hunley" -- the USS Alligator. Launched in 1862, the Alligator was the U.S. Navy's first submarine. While the vessel represented a significant leap forward in naval engineering, complete information about its design and fate has been elusive. Today, NOAA and ONR released findings that help fill large gaps in the history of the all-but-forgotten Union submarine, including details about the Alligator's inventor, innovative features, and loss in April 1863. "NOAA is excited to partner with the Office of Naval Research to bring the largely untold story of the Alligator to the public," said Dr. Richard W. Spinrad, assistant administrator for NOAA's National Ocean Service. "Through the Alligator Project, we are learning not only about revolutionary developments in maritime technology but also the American Civil War experience and the pioneering spirit that built our great nation."
Chief of Naval Research RAdm. Jay Cohen added, "The Alligator Project will test our ability to find an object in the sea in a reasonable amount of time and at a reasonable cost. If we can find the Alligator, we can find anything." Among the NOAA-ONR research team's recent discoveries are the only design drawings of the Alligator found to date. Drafted by French inventor Brutus de Villeroi, the drawings provide new details about the vessel's architecture and breakthrough technologies, including the first diver lockout chamber ever devised for a submarine as a weapons system. NOAA discovered Villeroi's original, hand-drawn designs in France in May 2003 after a search for Alligator-related documents led to the French navy's historical archives, the Service Historique de la Marine. Along with the design drawings, NOAA also found a number of original, hand-written letters exchanged by Villeroi and the French government. The letters document Villeroi's repeated but unsuccessful attempts to persuade the government of his native country to purchase his submarine design. An 1863 letter provides clues about the loss of the Alligator off the coast of North Carolina while it was being towed by the USS Sumpter from Washington, D.C., to Charleston, South Carolina. The information released, including images of the Alligator design drawings, historical documents, and a map depicting the last reported position of the submarine, are available on the Alligator Project website at http://www.sanctuaries.noaa.gov/alligator/
TAURUS
A multi purpose submersible, designed for one-atmosphere operations, diver lockout, dry transfer, and submarine rescue (DSRV). This submersible is in excellent condition and dive ready. Suitable for underwater tourism, scientific research, search and salvage, and a range of military tasks. Crew: six (normal), six (diver lockout operations), twenty-two (DSRV operations). Operational Depth: 1200ft (400m). Weight: 22 tons. One large front viewport, one large aft viewport, four tower viewports, one lower viewport. Fitted with external lighting, sonar system, acoustic tracking, communications, manipulator arm, and hydraulic cable cutter.
Mapping Uncharted Waters.
An autonomous underwater vehicle (AUV) called Autosub is about to become the first surveyor to breach one of the last unknown regions of the world. It will plunge into the unexplored pockets of the sea beneath the ice shelves of Antarctica. Travelling through the Amundsen Sea under the Pine Island Glacier ice shelf, Autosub will gather data for four projects sponsored by the Natural Environment Resource Council. The aim is to understand the interactions between the glacier and the ocean, which may reveal the effects of global warming on the Antarctic region.
Adventurer-Sub for sale.
"DEAR ALAN,
I have a Sub for sale (140ft depth, 3 crew) made by a small company in Florida.The inside of the sub is almost complete. The a/c gets installed next week. The dash is complete and looks great.The sub has been tested about 15 times and the biggest problem was the diesel and electric engines. But that is all fixed now. The tests where all in shallow water (25 ft.or less). More tests have to be done to find neutral buoyancy. The sub is not finished, but all the equipment is 100% paid for, with all parts and labour under a one year warranty. To finish the sub it will take testing and very little money. The builder says he will not build another one like mine for under $250,000. I upgraded almost every part over the last two years. I have registered the boat in Florida and the coast guard have approved it. This submarine would be a great buy for any enthusiast. Please inform all your readers."
FREE-DIVING WORLD RECORD SET
Cabo San Lucas, México -- Off the coast here, Pipin Ferreras set a new no limits free-diving world record of 558 feet (170 meters). Dr. Titanic, used manned submersibles and above and below water cameras to document the record. The dive took place at 11:30 a.m. in calm seas and light winds. The water temperature at the surface was 82°F and 55°F at 558 feet. The depth was confirmed using a precision instrument carried on Pipin's back, said McCoy. The cylindrical device, which contains a microprocessor, is accurate to within 3 inches and has been used to certify free-diving world records since 1995. For more, contact sales@oceansensors.com
Medium Tourist Submarine for sale.
A new-build medium size multi passenger tourist submarine, designed for the underwater leisure market. Operating Depth: 300ft (100m). Crew: Two pilots and twenty-four passengers. Weight: 35 tons. Large viewports on all sides. External lights, communications, video and sonar.
DRUGS FROM THE SEA - ELUSIVE CANCER KILLER'S DEEP-SEA HIDEOUT DISCOVERED.
Ft. Pierce, Florida, USA -- In 1984, Harbor Branch Oceanographic Institution scientists discovered a small piece of sponge in the deep waters off the Bahamas that harboured chemical with a remarkable ability to kill cancer cells in laboratory tests. Despite almost two decades of subsequent searching, the group was never able to find enough of the sponge to fully explore its potential. But now that process can finally be in because, thanks to some creative detective work, the team has found the animal's secret hiding place and collected enough of it to support years of intense research. "It's just amazing," says Dr. Amy Wright, director of HBOIs Biomedical Marine Research, of the sponge she has been in a career-long quest to find. "This is our next cure, I know it's our next cure." A chemical produced within the sponge, which has not yet been given an official name, has proven in one test of cancer-fighting potential to be about 400 times more potent than Taxol®, a widely used treatment for breast and other forms of cancer. As important, preliminary experiments have also shown the compound to be fairly non-toxic to normal cells. But the limited amount of the sponge initially collected was not enough to carry the team through the long process of developing a potential medical treatment, which involves careful study of exactly how a chemical kills cancer cells and of its chemical structure.
On various expeditions over the years, scientists found only tiny pieces of the sponge, then last year two slightly larger pieces, but still they did not have enough to do the required research. So, in preparation for a cruise this year to the Bahamas that ran from October 9th through the 24th, Wright and her team used clues from where each piece had been collected to put together a profile of the habitat where it must live. The sponge was found in water more than 1,000 feet deep in an area the researchers often refer to as the "dead zone" because it is generally characterized by bare rock and very low biodiversity. The sponge, which can grow to about the size of a softball, had eluded researchers for so long because they generally avoid this area in favour of exploring more diverse habitats. Wright predicts that the quantity of the sponge collected on the expedition using the submersible should be enough to carry the team through the full multiyear drug discovery process, possibly even to the first phase of human trials. "I never thought I would see that much of the sponge ever," says Wright, "Now we have enough to move forward." Harbor Branch has already patented nearly a hundred potential pharmaceuticals from the tens of thousands of the organisms the Biomedical Marine Research group has collected since the 1980s at sites around the globe. Several of these are in various stages of development as potential commercial drugs. Discodermolide, a compound produced by a deep-water sponge found in the Bahamas, is currently in the first phase of human trials as a cancer treatment. For more information about this expedition as well as background articles on the team's research, visit Harbor Branch's online expedition site.
Hyball Rov available for sale
In excellent condition, all latest circuit boards and modifications. Extensive spare parts package included. Training course available. Fantastic buy, a bargain.
NORWEGIAN, FINNISH NAVIES USING HUGIN AUV.
Horten, Norway -- Following successful operations with Kongsberg Maritime's Hugin AUV early September in Luce Bay, Scotland, (in conjunction with the NATO exercise Northern Light*), the Royal Norwegian Navy mine hunter HNoMS Karmøy transferred east to Finnish waters for further challenges with the Hugin AUV and Minesniper mine disposal vehicle, according to company spokeswoman. In co-operation with the Finnish Navy, a series of survey tests were carried out over a one-and-a-half-week time period to test and evaluate the Karmøy`s capability to detect, classify, and neutralize mine threats using the vessels complete range of mine countermeasure capability, including the Hugin, the MICOS 2 system, and the Minesniper mine disposal vehicle. Several missions were conducted in different areas to demonstrate the Hugin's capability in REA and MCM operations, including mine detection, localization, and classification. The vehicle was mostly run in autonomous mode, surfacing at regular intervals for vehicle navigation system updates by global positioning system (GPS) and communication with the mother ship via the radio link. Submerged, the acoustic links were used to communicate vehicle status and changes to the mission, if found necessary. For most of the operations, the Hugin was operated autonomously at very remote distances from the mother ship. For more information, contact Kongsberg Maritime Sales department on +47 3302 3938, e-mail subsea@kongsberg.com.
SUBMARINE MUSEUM SEEKING HELP.
Colchester, Essex,
U.K. Robin Webb writes: " I am a Trustee of the Royal Navy Submarine Museum in Gosport, Hants. The museum is planning to put the miniature submersible LR3 under permanent cover shortly. If there are any ex-pilots or crew members of LR3 or similar vessels who would like to volunteer to assist in the restoration, could they please contact me or the museum".
U.S. NAVY ANNOUNCES SSGN CONVERSION CONTRACT
General Dynamics Electric Boat Corp. was awarded a cost-plus-incentive-fee contract worth $222 million for the
conversion of the first Ohio-class guided missile submarine (SSGN), USS Ohio (SSGN 726), and for long lead time material and conversion installation planning for the conversion of Ohio-class ballistic missile submarines (SSBNs), the USS Michigan (SSBN 727) and the USS Georgia (SSBN 729), to SSGN 727 and SSGN 729, respectively. Emphasizing the importance of SSGNs, Navy Secretary Gordon R. England said, "The SSGN is an example of the Navy's innovative transformation that supports our joint warfighters. With well over 20 years of life remaining, the SSGN conversion will significantly increase the strike capability and the flexibility of our special forces." The December 18 award modifies a contract with Electric Boat originally awarded on September 26, 2002, for SSGN detail design, long lead time material, and conversion planning. The contract also provides priced options totalling $152 million for the fiscal 2004 conversion of SSBN 728 (USS Florida) to SSGN 728 and for the completion of conversion installation planning for SSGN 729. Upon completion of their conversions, the SSGNs will be able to carry up to 154 Tomahawk missiles and to function as the host platform for 66 special operations forces. SSGN 726 began its engineering overhaul (ERO) at Puget Sound Naval Shipyard in November 2002 and began conversion work in November 2003. SSGN 728 began its ERO at Norfolk Naval Shipyard in August 2003 with conversion start planned in April 2004. Both the SSGN 726 and the SSGN 728 will complete conversion in fiscal 2006.
Mergo Submarine for sale.
The Mergo is a tourist submarine, safe and comfortable, designed for the smaller tourist resort. This submarine is ideal for start-up operations, and organisations entering the underwater market for the first time. Operating Depth 300ft (100m). Crew: One pilot and ten passengers. Weight: 24 tons. Large front viewport, large tower viewport, ten large individual passenger viewports. External lights, sonar, acoustic tracking, video and communications.
OTHER U.S. MILITARY CONTRACT NEWS.
Electric Boat Corp., Groton, Connecticut, was awarded a $42.1 million contract modification for the execution of the USS Seawolf (SSN 21) selected restricted availability (SRA). The U.S. Navy Supervisor of Shipbuilding Conversion & Repair, Groton Connecticut, is the contracting activity.
Lockheed Martin Corp., Maritime Systems & Sensors (LMMSS), Manassas, Virginia, was awarded a not-to-exceed $117.2 million letter contract for level-of-effort supporting the acoustic rapid commercial off-the-shelf (COTS) Insertion (A-RCI) program. The letter contract was awarded for engineering and technical services and associated materials for the design and development of upgrades, systems support, and production of A-RCI upgrade kits for the A-RCI Program. A-RCI is a sonar system upgrade installed on SSN 688, SSN 688I, SSN 21, SSN 774, SSGN, and SSBN 726-class submarines. A-RCI integrates and improves towed array, hull array, sphere array, and other ship sensor processing. The Naval Sea Systems Command, Washington, D.C., is the contracting activity.
WHOI SCIENTISTS TO BUILD HYBRID ROV
Woods Hole, Massachusetts, USA -- For the first time since 1960, U.S. scientists will be able to explore the deepest parts of the world's oceans, up to 7 miles below the surface, with a novel underwater vehicle capable of performing multiple tasks in extreme conditions. Researchers at the Woods Hole Oceanographic Institution here are developing a battery-powered underwater robot to enable scientists to explore the ocean's most remote regions up to 11,000 meters deep. A spokeswoman said the hybrid HROV will be able to operate in two modes -- as an autonomous or free-swimming vehicle for wide area surveys, and as a tethered vehicle for close-up sampling and other tasks. In the latter mode, it will use a novel fiber-optic micro cable only one thirty-second of an inch thick, a significant departure from the large, heavy cables typically used with tethered vehicles. The deep-sea vehicle will require new technologies such as ceramic housings for cameras and other electronic equipment to withstand the pressures at the vehicle's extreme operating depths, she said. Funding for the four-year, $5-million HROV project is provided by the U.S. National Science Foundation, with additional support from the U.S. Navy and the National Oceanic & Atmospheric Administration. Principal investigators are Andrew Bowen and Dana Yoerger of WHOI's Deep Submergence Laboratory in the Applied Ocean Physics & Engineering Department and Louis Whitcomb, an associate professor in the Department of Mechanical Engineering at The Johns Hopkins University (Baltimore, Maryland). Whitcomb is also a visiting investigator in DSL. The new vehicle will undergo initial trails in three years.
Humans have been to the bottom of the Mariana Trench only once, in 1960, when the U.S. Navy bathyscaph Trieste descended with then Lt. Don Walsh and Swiss scientist Jacques Piccard. The Japanese ROV Kaiko dove to the bottom of the trench in 1995. It was lost earlier this year and no operational vehicles currently exist that are capable of reaching this depth. "The HROV will enable, for the first time, routine scientific research in the deepest parts of the ocean, from 6,500 meters to 11,000 meters, a depth we currently cannot reach," says RAdm. Richard Pittenger, USN, Ret., and WHOI vice president for marine operations. "It will also afford access to other very hard-to-reach regions such as under the arctic ice cap. The HROV's real-time, wide-band link to the surface will put the researcher in the loop to view, assess, and command the vehicle throughout the duration of dive missions. It is the first capable and cost-effective technology that will enable scientists to pursue research projects on a routine basis in areas they have long wanted to study but have been unable to reach. HROV technology will help answer many questions about the deep sea." More at http://www.whoi.edu/home/
KES DELIVERY OF BLUEFIN21 FOR SCIENTIFIC EXPLORATION.
Cambridge, Massachusetts, USA -- The Alfred Wegener Institute for Polar & Marine Research (AWI) in Bremerhaven, Germany, recently took delivery of a 3,000-meter-depth-rated Bluefin21 AUV, which is the newest generation of Bluefin's AUV technology. Among other things, the vehicle will be used for scientific research near and under the polar ice caps where obstacle avoidance and highly accurate dead-reckoning navigation are crucial for vehicle ope>ration. Bluefin is a spin-off from the Massachusetts Institute of Technology's AUV Lab and has been manufacturing autonomous underwater vehicles and sub-sea batteries since 1997. Bluefin's current product line includes the Bluefin21, the Bluefin12, and the Bluefin9, as well as pressure-tolerant batteries in 1 kilowatt-hour, 2 kilowatt-hour, and 3 kilowatt-hour sizes. The Alfred Wegener Institute for Polar & Marine Research was established as a public foundation in 1980. It is a member of the Hermann von Helmholtz Association of German Research Centres and conducts research in the arctic, the Antarctic, and at temperate latitudes. It coordinates polar research in Germany and provides both the necessary equipment and the essential logistic >back up for polar expeditions. More about the AUVs at http://www.bluefinrobotics.com/.
NRC CALLS FOR MORE DEEP-DIVING U.S. SUBMERSIBLES
Washington, D.C., USA -- Deep-diving manned submersibles, such as Alvin, which gained worldwide fame when researchers used it to reach the wreck of the HMS Titanic, have helped advance deep-ocean science. But many scholars in this field have noted that the number and capabilities of today's underwater vehicles no longer meet current scientific demands while others say the relative value of manned and unmanned vehicles is often disputed. A new report from the U.S. National Academies' National Research Council says new submersibles - both manned and unmanned -- that are more capable than those in the current fleet are needed and would be of great value to the advancement of ocean research. The U.S. National Science Foundation's Division of Ocean Science, a major funder of U.S. ocean research, asked the council to study the issue because of NSF's concerns
about the current fleet's usefulness.
The report, Future Needs in Deep Submergence Science: Occupied and Unoccupied Vehicles in Basic Ocean Research, notes that Alvin has been modified over the years to allow it to take a pilot and two scientists to depths of 4,500 meters. The report calls for a new and more capable manned vehicle that should provide the scientists onboard with improved visibility and achieve neutral buoyancy at various depths -- which Alvin has difficulty doing -- so that researchers can pause to study life forms that exist between the surface and the seafloor. A detailed engineering study also is needed to assess the costs and technical risks of extending the diving range of an upgraded manned vehicle to 6,500 meters.
A new manned submersible could be built by 2006, the report says, but given the high demand for deep-diving research vehicles and for submersibles that can go deeper than 1500 meters, a new, more capable unmanned submersible should be built by 2004 or 2005. NSF's Division of Ocean Science has a budget of $25 million to upgrade the nation's fleet of deep-diving research submersibles. The report follows on the heels of an NRC report issued earlier this month that called for the construction of a number of new manned and unmanned deep-sea submersibles as part of a proposal for a large-scale ocean exploration program. The newest report will be available early next year from the National Academies Press. Contact the office on +1 (202) 334-3313 or on the Internet at http://www.nap.edu/
SONARDYNE JOINS HUNT FOR GERMAN U-BOAT
Yateley, Hampshire, U.K. -- A major operation to study the wreckage of a World War II German U-boat in the U.S. Gulf of Mexico has been supported with deep-water acoustic positioning equipment from Sonardyne International Ltd. here. The wreck was found by C&C Technologies Inc. surveyors during a pipeline route survey for Shell Exploration and BP Exploration in 2001. The company had been using an AUV when it came across wreckage in 5,000 feet of water that marine archaeologists suspected was the remains of U-166. This U-boat was responsible for torpedoing and sinking the passenger freighter SS Robert E Lee near New Orleans in July 1942 with many lives lost. In a joint venture with C&C, the Office of Ocean Exploration (U.S. National Oceanic & Atmospheric Administration), the PAST Foundation, and the U.S. Minerals Management Service, the NOAA research vessel Ronald Brown was mobilized in October 2003 to carry out a comprehensive ROV survey of the U-166 site. A television crew also joined the expedition to film a documentary for the History Channel's Deep Sea Detectives which is expected to be broadcast in April 2004. For the project, a Sonsub Inc. (Houston, Texas) Innovator ROV was equipped with high-resolution camera equipment, scanning sonar, and a Sonardyne RovNav acoustic transceiver. Because of the water depth, a Sonardyne long baseline acoustic positioning system was chosen as the primary positioning solution. The ROV?s first task was to deploy five Sonardyne Compatt transponders around the wreck site to create a navigation network in which the ROV an wreck could be positioned. A Sonardyne ultra-short baseline system was used to track the ROV on its descent to the bottom and to provide the ROV crew with the relative position of the vehicle?s tether management system.
During the five-day survey of the U-166, the team from C&C also successfully investigated the site of the Robert E. Lee, which lies within a mile of the submarine. The project now stands as the deepest archaeological study project ever undertaken in the Gulf of Mexico. The data and spectacular images that were collected will enable archaeologists to piece together a detailed record of these historic sites. The recent successful use of an LBL system on the important site of the Mary Rose warship in the U.K. is further confirmation that acoustic positioning systems can make a significant difference to the amount of archaeology that can be accomplished in a short time,
whether in deep or shallow water. For more, see http://www.sonardyne.co.uk/.
SPEARHEAD EXHIBITIONS MEETINGS
March 16-19, 2004, Oceanology International 2004,
Exhibition Centre London(ExCeL),
London. Information and Registration at http://www.oceanologyinternational.com/.
September 23-24, 2004, UUVS 2004: Sixth Unmanned Underwater Vehicle Showcase,
Southampton Oceanography Centre, Southampton, U.K. Information at http://www.uuvs.net/
September 6-9, 2005, Offshore Europe 2005, Aberdeen Exhibition & Conference Centre, Aberdeen,
Scotland. Information at http://www.offshore-europe.co.uk/.
Underwater Camera for sale
Photosea 100O Underwater Stills Camera System complete with strobe lights. Advertised as being the finest professional underwater photographic equipment available, and takes 35mm film for prints or slides. The system has been pressure tested to operate at depths of 3000 metres. Purchased in 2001 it has not been in the water, as the programme that the system was intended has not proceeded.
Please contact us at anytime to discuss your underwater vehicle requirements. We are always happy to exchange ideas and offer advice.
how to contact us
Silvercrest can provide the solution to all your submarine and submersible requirements (big or small). Contact us at anytime (24hours), to discuss submarine chartering, leasing, buying, and selling. Alternatively call us for a friendly chat, to discuss your proposed underwater project and ideas. We will always offer suggestions and advice.

European Office (England). Tel: (+44) 1285.760620. Fax: (+44) 1285.760620.
E-mail: sales@SilvercrestSubmarines.co.uk