company news
Silvercrest Submarines news letter (2003 Pt 2)
We have a wide range of submarines (big and small) plus Rovs for sale and possible charter. Priced to suit all budgets and tasks.
Contact us at anytime to discuss the options and to exchange ideas.
Israeli Sub Dakar.
Remember in our last newsletter the story about the tragic loss of the Israeli submarine Dakar on her maiden voyage in 1968, and the discovery by Nauticos Corp. 30 years later. The Dakar was a WWII T-class boat, built by the British and sold to the Israelis after modifications, upgrades, and sea trials. In 1968, the Dakar was en route to Haifa via Gibraltar on her maiden voyage for delivery to the operational fleet. During this transit, communications inexplicably ceased and the submarine disappeared. Under contract for the Israeli Navy, Nauticos -- along with subcontractors Williamson & Associates Inc. (Seattle, Washington) and Phoenix International Inc. (Landover. Maryland) -- set out to find the Dakar in May 1999. The submarine was found badly damaged and resting at depth of 10,000 feet in the Mediterranean.
Well as an addition to this story we received the following letter from Stephen Donaghey.
Dear Alan
Thanks for your info and news letter.
I noticed a feature on the Totem submarine, and just thought I'd let you know my father served on HMS Totem. He told me that there was a totem pole mascot, which they were never allowed to sail without, apparently bad luck. When this sub was sold to the Israeli's we kept the totem pole, and the submarine sunk! ! Submariners are superstitious.
Just thought I would let you know.
Regards Stephen
Taurus Submarine.
Our Taurus submarine (normally six man, depth 1000ft) has recently carried out diving operations at the South African Navy base in Simonstown. In addition to the commercial, salvage, and scientific research operations that this submersible undertakes, Taurus is also designed to operate as a submarine rescue vessel (DSRV). In the rescue mode DSRV Taurus can shuttle twenty passengers at a time from a stranded military submarine. Currently a number of NATO navies as well as the South African navy are discussing this capability.
Contact Silvercrest for details.
Submersibles for sale.
For sale in excellent condition, this four- man (1000ft depth rated) submersible with diver lockout facility. We also have immediately available a range of multi passenger tourist submarines (ten to forty passenger). Small two / three man submersibles, and one man ADS units. Pilot training and maintenance courses are arranged to support every submarine sale if required. Please contact us to discuss your exact requirements.
Submarine web sites for your collection.
The following web sites will be of interest to all submarine and Rov enthusiasts.
www.Submarines-Rovs.com and www.euronaut.org and www.oceanexplorer.us
For Sale - the world's most advanced Tourist submarine.
The DS100 all acrylic submarine with support vessels . This amazing tourist submarine is currently available for sale complete with Support Barge/Dry-dock and passenger Catamaran for only US $2.965 million. An ideal package for an instant tourist submarine business. Actual replacement value for all three vessels is US$7.3 million. Available for immediate inspection. Joint venture may also be considered at US$1.5 million minimum. Submarine operating depth - 100 m. Passengers - 45. Crew - 2 . Length - 19 m. Weight in air - 90 tons.
The Support Barge was built specifically to support the DS100's operations. This 85 foot long, 95-ton vessel has extraordinary manoeuvring capability through two Schottel drives. It has an integrated hydraulic lift for dry-docking the DS100 from the water. The support barge also has the battery chargers, high-pressure air compressors, oxygen transfer pump, workshop space, tools and spare parts necessary to operate and maintain the submarine. The DS100 Passenger Catamaran (14m long) is a high-speed passenger transfer vessel powered by twin 350 hp Caterpillar diesels. The catamaran is able of carry 90 passengers at speeds of 18 knots. Passengers are transferred to the stable support platform of the Support Barge where the DS100 docks after each dive. The replacement value is US$525,000.
Hardsuit Diving Systems to Russia.
BOT has delivered four crane-based LARS to Oceanworks International Inc. (Houston, Texas) to be used with its Hardsuit atmospheric diving systems. These systems were supplied to the Russian Navy as part of a major investment in submarine escape and rescue equipment, made in the wake of Russia's Kursk submarine disaster. The four LARS are self-contained, air-transportable modular systems mounted on an ISO container base, allowing for easy shipment and installation on vessels of opportunity.
Ohio Class Submarines.
Electric Boat Corp., Groton, Connecticut, was awarded a $38.3 million contract modification to exercise an option for the procurement and manufacturing of long-lead-time material for the conversion of Ohio-class SSBN submarines to Ohio-class SSGN submarines. The Naval Sea Systems Command, Washington, D.C., is the contracting activity. Raytheon Co., Marlborough, Massachusetts, was awarded a $24.5 million contract for procurement of the Advanced Communications Mast (ACM). The ACM is a super high frequency antenna system to be operated on the SSN-23 submarine. It consists of electronic control equipment located in the radio room and antenna/transmitter equipment located in the sail. The ACM must interface with existing submarine systems as well as unique data source equipment installed only on the SSN-23 submarine.
Lockheed Martin Corp.
Naval Electronics and Surveillance Systems, Manassas, Virginia, was awarded a $69.96 million contract modification to exercise an option for the Acoustics Rapid Commercial Off-the-Shelf Insertion (ARCI) sonar system. ARCI integrates and improves towed array, hull array, sphere array, and other ship sensor processing on SSN 688, SSN 688I, SSN 21, and SSBN 726 class submarines.
Dual Deepworker submersibles for sale.
This exciting package of dual (2) Deepworker submersibles is now available for sale.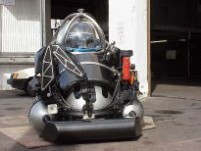 Each Deepworker is a one-man tetherless submersible capable of working in depths up to 2000ft.
Length: 8.25 ft.
Beam: 5.3 ft.
Height: 5.6 ft.
Weight in Air: 4700 Ibs.
Operating Depth: 2000 fsw.
Payload: 300 Ibs./variable
Life Support: 72 man hrs.
Max Speed: 2.5 knots
Crew: 1 pilot
Sonar: 675Khz Imagenix
Acoustic Modem: Datasonics ATM-870
Hydraulics: 2200psi Hydro-Lek
Manipulator: HLK-CRA6 6 function
Certification: Lloyd's Register of Shipping
Submersible pilots in the past have been constrained to only piloting the vehicle and monitoring his systems, which are critical tasks. Deepworker operators can be alleviated from a number of these tasks due to technology, modernization and the inherent ergonomic design of this particular vehicle. In this design the pilot is seated upright. The view port is a 25" hemispherical dome. The pilot can enter desired depth and heading data into the PLC and Instruct the PLC to maintain that course, depth and heading. The PLC will continue to perform that function until cancelled by the pilot. The versatility of the PLC along with the ancillary computer also allows for other capabilities such as acoustic electronic communication of critical operational information with the surface vessel. The submersible is outfitted with a six-function manipulator. Additional hydraulic tooling is easily integrated such as water jets, suctions, and guillotines. If necessary ,an additional manipulator can be installed for specific dexterity requirements.
Submarine/Auv Autopilot.
H Scientific Ltd. successfully commissioned its 3DMC autopilots on a manned submarine, on a fast RHIB (more than 30 knots), and on an airship. The firm's Dr. Henry Robinson said the firm's autopilot is "the world's first off-the-shelf autopilot for AUVs." The 3DMC, developed in collaboration with Chelsea Technologies Group (West Molesey, Surrey, U.K.), is designed to be applicable to a wide range of vehicles. Software configuration allows the autopilot to be connected to many different sensors and actuators. Recent trials illustrate the versatility of the autopilot, Robinson said, "working not only on such different vehicles in such different speed regimes, but also in different media, air, as well as surface and subsea. These successes demonstrated how effectively it can learn the characteristics of a new vehicle, typically in less than a minute." In each case the learning process worked first time, with no pre-tuning needed, he added. Visit the website at www.h-scientific.co.uk/
Marlin Building a new Submarine.
A small specialist company is currently building a diesel electric manned submarine. Classified as an American Bureau of Shipping +A1 submersible, the Marlin AP6 will be a six-passenger, 18 tonne tourist submarine capable of diving to 302 meters depths. Richard Dawson said the intention is to provide a specialized service to enable interested tourists, scientists, and environmentalists to observe a wider spectrum of marine life and seabed conditions. The passenger section of the pressure hull will consist of two intersecting transparent acrylic spheres, 1.85 meters inside diameter and 100 millimeters thick. The passengers and crew will be treated to a spectacular all round view previously enjoyed only by the most advanced research submersibles, he said. The vessel will be the first ever to employ this twin sphere geometry. Construction is currently well advanced, and delivery of the pressure hull components (the only items that are not made in-house) is expected early in 2003. The craft is due for completion in early summer 2003, and after the completion of the sea trials off Plymouth in Devon, will be available for charter.
To charter your submarine please contact us.
Autosub for the Antartic.
Dr. David Vaughn of the British Antarctica Survey will be using Southampton Oceanography Centre's Autosub to investigate the cavity under Pine Island Glacier, one of the fastest Antarctic ice streams. Satellites show that the grounded portion of the glacier thinned by up to 1.6 meters per year from 1992 to 1999. A large iceberg, 42 by 17 kilometers, broke off the Pine Island Glacier in early November 2001. Ice shelves are the floating edges of the ice sheets that cover Greenland and Antarctica. These shelves are involved in the waxing and waning of the ice sheets as climate changes. They contain over 70% of the world's freshwater -- enough to increase sea level by 80 meters if they melted entirely. But what takes place in the vast water cavities beneath ice shelves -- which can be a thousand meters thick -- is largely unknown. The autonomous underwater vehicle Autosub's unique capabilities will allow Vaughn to make the first direct measurements of the newly exposed bed of a retreating ice stream. The AUV will be diving to depths below 1,000 meters to gain access to the glacier cavity. On previous research missions in the open ocean, Autosub has been programmed to surface if she gets into difficulties. The engineering team at SOC designed a completely novel navigation system to overcome the dangers of working in an enclosed space. This research project is the first in the Autosub Under Ice Program funded by the U.K. Natural Environment Research Council.www.soc.soton.ac.uk/
Two Rov's for Immediate Sale.
a) Hyball Rov available for sale in excellent condition, all latest circuit boards and modifications. Extensive spare parts package included. Training course available. Fantastic buy, a bargain.
b) Phantom Rov for sale in good condition and dive ready, complete with spare parts, shipping container and a hoisting crane. Standard operating depth 1500 ft. 3 Function MlNlpulator, 2 * 500w lights fixed position, 2 * 250w linked to camera pan/tilt. Sony DXC 3000 AP Video camera (PAL), Heading compass, and Depth gauge. Power requirement 230 volt, 50 Hz, 15 KVA. Umbilical is 23mm diameter equipped with full conductors and fibre optic video link. Six one horsepower thrusters.
Rus 6000 submersibles.
RUS, a 6000m submersible, built by Malachite for the Ministry of Geology in Russia. Uses silver zinc batteries, Russian manufactured syntactic foam, and a welded titanium hull. Malachite has considerable experience in welding thick titanium. Two submarines were built in Russia in 1991. Now in operation supporting scientific research. Depth 6000m. Crew 2/3.
SilverFish 4000 Submersible.
The SilverFish 4000 is a complete new build submersible being constructed in Europe, and designed by Ramsey Martin, Organisations interested in purchasing this submersible will have the opportunity to customise the unit to meet their specific operational requirements. The titanium sphere has now been constructed and tested for an operational depth of 4000m (12,800ft). Internal and external design is currently being undertaken prior to final outfitting. The basic design of this submersible offers the maximum adaptability to optimise the configuration of the vehicle for the roles required by the client. As a very deep diving one atmosphere submersible, the main tasks envisaged will be seabed search and survey, scientific research, and military applications.
Viking Submarine Project Enters New Phase.
The Viking Project has now reached the tendering phase. The Swedish, Norwegian and Danish navies - have recently submitted specifications that will form the basis of this tender. The Viking Submarine Corporation is a joint venture between Kockums AB of Sweden, Kongsberg Defence & Aerospace of Norway and Odense Staalskibsvaerft A/S of Denmark. The company will now submit a tender for project planning, which will form the basis for decision regarding design and construction of ten submarines: four each for Denmark and Norway, and two for Sweden. The submarines will be designed to operate under widely differing conditions, in terms of range, operational duration and deep-diving capability. A document has been drafted outlining the joint specifications of participating countries, covering the special requirements of each country. This is made possible by adopting a joint basic design that is sufficiently flexible to allow for modifications and add-on capabilities as required. This basic design specifies a submarine that combines completely air-independent propulsion with a substantial punch and extreme efficiency. The Viking class submarines will offer significant advances in stealth capability and a dramatic improvement in the surveillance function, featuring advanced sonars. The Norwegian version, with a mission profile involving extended periods on the surface, covering considerable distances, will be fitted with a diesel as well as AIP propulsion system.
Kittredege Submarine for sale.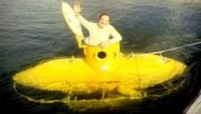 We have two Kittredge submarines for sale( operating depth 350ft and 600ft). These are small one/two man units that are great fun and very easy to operate and maintain. Training courses available at your own dive site if required. Priced from US$79,890 (as is where is).
Investment and Business Opportunity.
We currently have two exciting investment opportunities that you may wish to investigate.
Adventure Submarine Company. This European based company has negotiated to obtain a deep diving submersible. In conjunction with a mothership, the Company will take adventurers on exciting dives to remote dive sites and unseen wrecks. Minimum investment of US$100,000 gives an equity stake in this exciting venture.
Tourist Submarine Operation. This Australian based company is negotiating a passenger submarine for operations at a resort off Australia. Minimum investment of US$150,000 buys an equity position in the company. Senior management position may also be available to selected investors.
Dates for your Diary.
September 24-25, 2003, UUVS: Fourth Unmanned Underwater Vehicle Showcase, Southampton Oceanography Centre, Southampton, Hampshire, U.K. Information and registration at www.uuvs.net/
March 14-15, 2003, 22nd Diving for Science Symposium of the American Academy of Underwater Sciences, Greenville Hilton, Greenville, North Carolina. Information and registration at www.aaus.org/
Please contact us at anytime to discuss your submarine project or submarine purchase. We are always happy to offer suggestions and advice, and put you in contact with our worldwide group of contacts.
how to contact us
Silvercrest can provide the solution to all your submarine and submersible requirements (big or small). Contact us at anytime (24hours), to discuss submarine chartering, leasing, buying, and selling. Alternatively call us for a friendly chat, to discuss your proposed underwater project and ideas. We will always offer suggestions and advice.

European Office (England). Tel: (+44) 1285.760620. Fax: (+44) 1285.760620.
E-mail: sales@SilvercrestSubmarines.co.uk