what we do
Silvercrest Submarines can offer a range of Rovs, submarines, submersibles, and support services, to individuals, dive operators, and organisations involved in:
» Underwater Filming, TV advertising and promotions.
» Underwater Tourism and Leisure.
» Search and Salvage.
» Scientific Research.
» Submarine Rescue (DSRV).
» Deep Sea Operations
Silvercrest Submarines can arrange Submarine Maintenance, and Pilot Training courses for purchasers. Submarine Refit and Certification programmes can also be provided.
We have a number of submarines available for short term hire and long term charter (with experienced crews), that are ideal for scientific research projects, underwater filming, TV advertisements, boat shows, exhibitions, corporate incentive programmes, and subsea salvage operations. Call us at anytime to discuss your underwater plans, we are always very pleased to offer ideas and suggestions.
Our charter rates are very competitive
For example the two-man ComSub with a diving depth of 600ft (200m), is a lightweight mini-sub that is easily transported by road and sea to anywhere in the world. This submarine is ideal for a wide range of activities, including underwater filming, scientific research, and subsea exploration.
The ComSub two-man submarine was built in Europe to a very high technical standard that offers a relatively spacious interior, and a full range of safety features. Ideal for yacht-based activities, underwater filming, scientific research, and for corporate activities. Operating depth: 200m (600ft). Dry weight: 4tons. Viewports: 4 x flat acrylic (340mm) forward looking, 4 x conning tower (120mm), 1 x hatch viewport (90mm). External Lights, Compass, Sonar, Echo sounder, and communications. Available for sale or charter.
Russian Submarine for Charter.

A Russian Projektu-613 class submarine, NATO code named "Whiskey". Built during 1956-1957 as a Soviet Navy hunter/killer. A total of 256 Whiskey class submarines were built at nine different shipyards in the Soviet Union. Length: 75.2m. Beam: 6.3m. Draft: 3m fore, 4.8m aft. Displacement: 1050 tons surfaced, 1350 tons submerged. When in service, the sub had a crew of 56 on board. One shift sleeping and one on duty. When sailing, the vessel could stay submerged for three days. The submarine is divided into seven watertight sections: Forward torpedo room, living areas/ battery room, aft torpedo room/living quarters, control room/living quarters/galley and engine/ battery room. The crew mess has about 40 table-seats. All areas can be used by the general public.
This submarine is the ideal venue for film producers, corporate entertainment, parties, weddings, dances, and special events.
about our company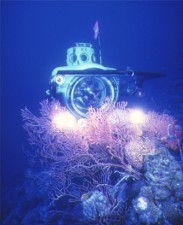 Silvercrest owns and operates the deep diving submersible Taurus. This superb submarine has an operational depth of 1500ft (500m), and offers excellent viewing facilities through large 36 inch diameter viewports. In addition the Taurus submersible has a very large payload, and is fitted with external lights, a seven function manipulator, sonar, and tracking equipment. A wide range of cameras, scientific instrumentation, and tools, can also be fitted to meet the demands of different underwater tasks. Built in Vancouver by Hyco Inc, the Deep Diving submersible Taurus is ideal for DSRV (submarine rescue), diver lockout, and general one atmosphere operations. Certification is by ABS.
Silvercrest acquired two Mergo tourist submarines (T-subs). These submarines are designed to carry ten passengers / one pilot, and have an operational depth of 300ft (100m). The Mergo submarines offer excellent internal comfort and viewing facilities, with and two large domed viewports for the pilot and each passenger having an individual 16- inch panoramic viewport. Certification is by DNV. [Read more...]
how to contact us
Silvercrest can provide the solution to all your submarine and submersible requirements (big or small). Contact us at anytime (24hours), to discuss submarine chartering, leasing, buying, and selling. Alternatively call us for a friendly chat, to discuss your proposed underwater project and ideas. We will always offer suggestions and advice.

European Office (England). Tel: (+44) 1285.760620. Fax: (+44) 1285.760620.
E-mail: sales@SilvercrestSubmarines.co.uk